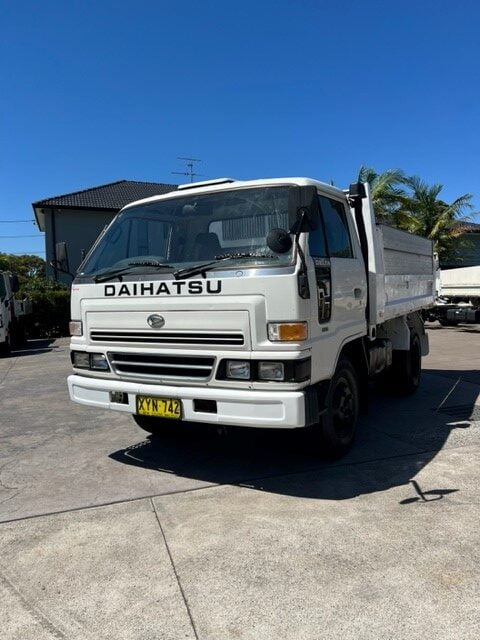 ---
Overview
Details
| | |
| --- | --- |
| Make | Daihatsu |
| Badge | Delta |
| Model | Delta |
| Condition | Good |
| Year | 2002 |
| Listing Type | Used |
| Colour | White |
| Stock Number | 1914 |
| Odometer | 236 585 |
| Drive | 4×2 |
| Brakes | ABS – Disc |
| Coupling | NA |
| Differential | Hypoidal |
| VIN | JDA00V11800063578 |
| GCM | 7995 |
| GVM | 4495 |
| Registration | XYN742 |
| Suspension | Leaf spring |
| Warranty | N/A |
| Wheel Base | 3500 |
Engine
| | |
| --- | --- |
| Engine Make | Daihatsu Delta 14B |
| Engine Model | TURBO DIESEL |
| Engine Number | 1693447 |
| Fuel Capacity | 100 |
| Engine Power | 150 |
| Fuel Type | Diesel |
Cabin
| | |
| --- | --- |
| Air Conditioning | Factory |
| Stereo | Factory |
Transmission
| | |
| --- | --- |
| Transmission Type | Manual |
| Transmission Manufacturer | Manual |
| Gears Forward | 5 |
Accessories
| | |
| --- | --- |
| Hungry Side Boards | Double |
| Tailgate | Side Swing |
| Tow Bar | Hayman Reece |
Body
| | |
| --- | --- |
| Body Make | 3000 x 1900m |
| Body Capacity | 3 |
| Body Dimensions | 3500 x 1900m |
Vehicle Description
The Daihatsu Motor Company Ltd started out as the Hatsudoki Seizo Company Ltd in 1907. The company's main focus became steam engines for rail locomotives and later on diesel engines for rail locomotives.
Daihatsu trucks were introduced into Australia in the very late 1960's by Gosson Industries. The first models sold were the DV in tipper and cab chassis versions.
The Delta is the most cost efficient, reliable and best value vehicle available. Thanks to a direct injection system, the 14B diesel engine delivers real power with low noise and superb fuel economy.
Drive Away – No More to Pay includes all on road and government charges
OR
Complete the form below and our friendly team will get in touch with you directly.